About Vehicle Warranties and Maintenance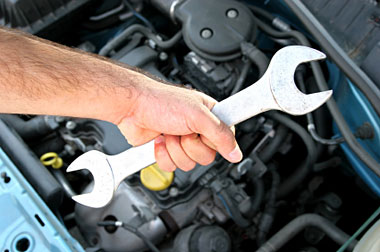 Most new vehicles come with a warranty at the time of purchase - this is an agreement between the manufacturer and the customer that if anything should break, malfunction, or otherwise go wrong with the vehicle within a certain period of time (typically 3 years or 36,000 miles, whichever comes first), then the manufacturer will repair or replace the component at no cost to the customer.
Vehicle service agreements (also known as extended warranty plans) are designed to offer similar peace of mind by literally extending the length of time a customer can expect to receive such coverage.
Never assume that a vehicle service agreement(extended warranty) includes parts and labor costs. You could end up paying for the time the mechanics spent repairing your vehicle. Considering that hourly rates can be between $70 and $100 or more per hour, these costs can quickly add up. Additionally, think about what other expenses you may incur if your vehicle is in the shop for a while. Car rental fees are another expense that can be costly unless covered by your warranty.
MYTH -You can only buy an extended car warranty or vehicle service contract from the dealer that sold the car.
FACT - You have many choices in extending your car's warranty. Yes, dealers are one source; but they're not the only source. Dealers may also be driven by sales or commissions goals which may keep them from being objective or offering the best coverage to fit your needs. Make sure you look for the most complete, reliable coverage at the fairest price, no matter who is selling the vehicle service contract.
MYTH - All extended auto warranties are basically the same; just get the cheapest.
FACT - There are hundreds of different types of extended auto warranties. Some are better than others. The only way to know how much you're getting for your money is to review the actual warranty contract. If a company won't let you see the contract, or includes questionable contract clauses, it doesn't matter what the price is. Walk away.
Some "red flag" contract language:
At the sole discretion of the Administrator
Parts may be used or recycled
Vehicles must be maintained according to severe requirements of manufacturer (this can double your maintenance costs)
Any covered part that has not failed (you want coverage for parts that fail, too). This includes seepage of seals and gaskets.
Gradual reduction in operating performance not covered
MYTH - I don't need to buy a vehicle service contract or extended warranty until my manufacturer's warranty expires.
FACT - The newer your vehicle, the lower your rates will be. A common misconception is that you are buying double coverage if you purchase extended vehicle warranty coverage before your manufacturer's warranty expires. You are simply locking in the costs and rates now and protecting against increases in the future. You can also enjoy a much lower cost and additional features like roadside assistance until your extended auto warranty coverage goes into effect.
MYTH - You must purchase a vehicle service agreement (extended warranty plan) at the time of purchase in order to qualify for dealer financing.
FACT - Qualifying for financing has nothing to do with buying add-ons or extended vehicle warranty coverage. It has everything to do with the purchase price of the vehicle, your down payment or trade, and your credit score. There is no way that adding to the price of your purchase will increase your likelihood of being approved.
MYTH - A "mechanical breakdown" warranty offers the same coverage as a "wear and tear" warranty.
FACT - The best warranties offer wear and tear. Vehicle service contracts that contain wear and tear plans provide a higher level of protection. Many extended car warranties define "mechanical breakdowns" as defective parts or workmanship. Wear and tear however, includes parts that wear out over time from normal use. The older your vehicle is, the more important wear and tear coverage becomes.
MYTH - Extended auto warranties mean you never have to worry about a vehicle.
FACT - Whether it's a manufacturer warranty or a vehicle service contract (extended auto warranty), you're still expected to care for your vehicle and provide proper maintenance like regular oil changes and the like. If you haven't been caring for your vehicle as outlined in the owner's manual your vehicle may end up with a lot of problems that may not be covered by your plan. Be sure not only to do the routine upkeep on your vehicle, but also to keep accurate maintenance records and receipts.
What's In a Manufacturer's Warranty?
It is almost industry standard now for a new car, truck, van, or SUV to come with some sort of manufacturer warranty. Typically, a vehicle is covered by either a bumper-to-bumper warranty, a powertrain warranty, or both.
Understanding Ultimate Exclusionary Coverage
This is a comprehensive warranty that covers virtually all parts, systems, and components of your vehicle for a pre-set amount of time or mileage. The most common arrangement is that the manufacturer will pay for the cost of all appropriate repairs and labor for up to 3 years or 36,000 miles, whichever comes first.
Powertrain Warranties - How they're different
If you watch TV or listen to the radio, then you've likely heard the phrase powertrain warranty before. Often, it is mentioned in combination with a lengthy time frame such as 5, 7, or 10 years, or even lifetime. What this refers to is the main engine, drive axles, transmission, and other vital components and systems of your vehicle.
Standard Manufacturer Warranty Agreements
This list details the length or term of coverage from the manufacturers for the most commonly purchased vehicles in the United States. This list is for reference only and does not replace any offer or adjustment to coverage made by the manufacturer. You should always consult the manufacturer or an authorized dealer for additional information regarding a specific manufacturer warranty.
Manufacturer
Basic Warranty
Powertrain Warranty
4 years/50,000 miles
6 years/70,000 miles
4 years/50,000 miles
4 years/50,000 miles
4 years/50,000 miles
4 years/50,000 miles
4 years/50,000 miles
5 years/100,000 miles
4 years/50,000 miles
5 years/100,000 miles
3 years/36,000 miles
5 years/100,000 miles
3 years/36,000 miles
Lifetime Limited
3 years/36,000 miles
Lifetime Limited
3 years/36,000 miles
5 years/60,000 miles
3 years/36,000 miles
5 years/100,000 miles
3 years/36,000 miles
5 years/60,000 miles
5 years/60,000 miles
10 years/100,000 miles *
4 years/60,000 miles
6 years/70,000 miles
3 years/50,000 miles
7 years/75,000 miles
4 years/50,000 miles
4 years/50,000 miles
3 years/36,000 miles
Lifetime Limited
5 years/60,000 miles
10 years/100,000 miles *
4 years/50,000 miles
6 years/70,000 miles
4 years/50,000 miles
6 years/70,000 miles
3 years/36,000 miles
5 years/60,000 miles
4 years/50,000 miles
4 years/50,000 miles
3 years/36,000 miles
5 years/60,000 miles
4 years/50,000 miles
4 years/50,000 miles
5 years/60,000 miles
10 years/100,000 miles
3 years/36,000 miles
5 years/60,000 miles
3 years/36,000 miles
5 years/100,000 miles
4 years/50,000 miles
4 years/50,000 miles
4 years/50,000 miles
5 years/100,000 miles
3 years/36,000 miles
5 years/100,000 miles
3 years/36,000 miles
5 years/60,000 miles
2 years/24,000 miles
2 years/24,000 miles
3 years/36,000 miles
5 years/60,000 miles
3 years/36,000 miles
7 years/100,000 miles
3 years/36,000 miles
5 years/60,000 miles
4 years/50,000 miles
5 years/60,000 miles
4 years/50,000 miles
4 years/50,000 miles